Lisa's unique approach allows clients to choose their own levels of activity and participation: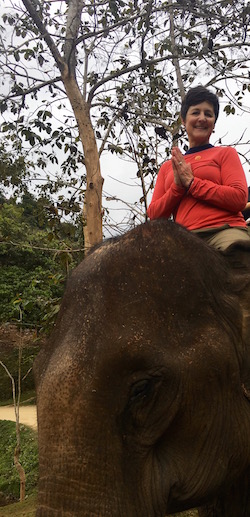 Relaxing and receiving a complete energy balancing session and /or sound bath with Tibetan Singing Bowls
Learning and practicing specific breathing and releasing techniques and mindfulness practices
Moving on the yoga mat in a personalized sequence of postures with breathing, awareness and deep relaxation
Lisa Eller Davis brings to her clients more than 30 years of experience in the healing arts. After many hundreds of hours of study and practice over the years, Lisa recognized the call to teach.
She received her 500 Hour Yoga Teacher Certification from the Prana Yoga and Ayurveda Mandala School for Vedic Studies under her beloved Teachers Hansa Knox and Yoga Acharya Swami Dharmananda. 
Lisa's style combines compassion with humor. She encourages students and clients to listen to their body's wisdom. "There is a yoga for every body," Lisa says. In addition to her formal training, she is familiar with the power of these processes after a total knee replacement in 2008.
Lisa teaches yoga and meditation/mindfulness to Seniors and others for Kaiser Permanente, the Denver Inner City Parish, Harmony Yoga, the Mizel Museum; at conferences on spirituality, health and aging; and private clients, many referred by their physicians. She is honored to be an Instructor for the Basic Yoga Teacher Training program at Prana Yoga in Northwest Denver. Lisa also provides sound therapy using Tibetan Singing Bowls for patients, caregivers and others as part of preventative, Palliative and/or Hospice Care.
"There is nothing more fulfilling to me than helping people become more comfortable in their bodies and their lives." ~ Lisa Eller Davis